Blog
Beautiful Blog by one HALO mum
From one of HALO's families, what a lovely idea in memory of sweet Jessica George.
"It's the first anniversary of Jessica's death on Sunday (today helped us to smile in what is a very tough week). We are planning to try and do little things to make people smile and #givejoyforjessica in her memory.
Would be lovely if anyone wants to join in.
Our Annual walk is nearly here, sign up and join us!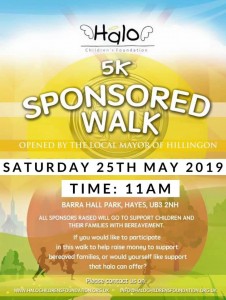 Halo Children's Foundation 5k Annual Sponsored Walk/Run
Saturday 25th May 2019
11am
Barra Hall Park, Hayes
Come and join us this year as we walk 5k around the park to raise funds to support the work of HALO with children and their families and in remembrance of a loved one.
Hillingdon Mayor will commence the walk at 11am.
Participants will receive a medal at end of 5k finish line.
Feel free to bring a picnic for afterwards if a nice day.
Water and light snacks provided by sponsors on the day.
This year no balloon release is allowed by the Council but weather permitting we will light a candle each in remembrance of loved ones
HALO Group of Expressive Arts & Play Therapy
At Halo Children's Foundation we hope to give children a space where they can express their grief and loss and hold on to memories of their love one.
Join us for expressive arts and play sessions.
Details on our website (under HALO Group)
Our Angel Pudsey
Pudsey Bear from BBC Children In Need designs his own feather dedicated to a loved one & places it on the wall at intu, Uxbridge & becomes an angel amongst other feathers dedicated by local children & families as he visits us at HALO supporting children with bereavement.
We had a great day with you Pudsey!
BBC CIN Pudsey bear visits us at HALO
Wow what an amazing opportunity it has been to share Halo Children's Foundation in the shopping mall at intu, Uxbridge for 5 weeks.
Pudsey bear from BBC CIN visits us in store on our last day as BBC Children In Need fund a Project Coordinator at HALO to work with our children.
Remembering loved ones
When we are remembering love ones and that in their absence they reward us with sweet memories, they help us be more self-aware of the earth's beauty and have enabled us to view life with new eyes…
What are your beautiful remains that your loved one has given you?
Credit: Martha Vashti Pearson & My Bereavement Companion
Memories will always be kept in your heart and for others we can help you keep them safe.
HALO can personalise a memory box to keep loved ones items in a place to revisit to help children remember their special person who has died.
Contact us at info@halochildrensfoundation.org.uk if we can help a child you know